A 700-Year-Old Farmer's Market and Other European Tales
Friday, May 1, 2015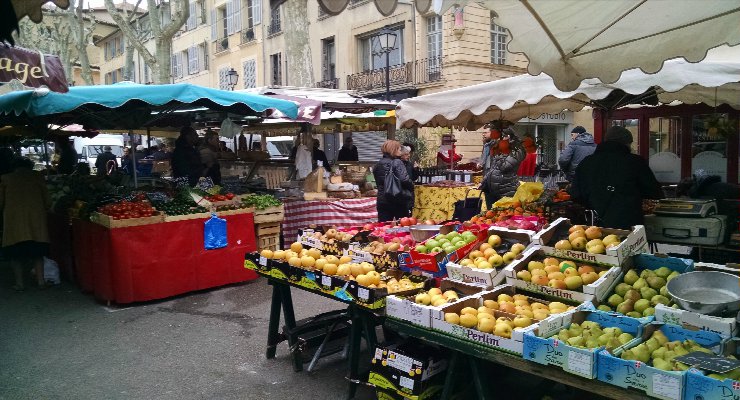 Gretchen Sterling, manager at the Pasadena Certified Farmers Markets, recently arrived back from a 12-day trip in Europe, where she discovered historical farmer's markets, unique cuisines, and breathtaking farms.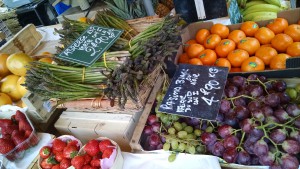 Together with a group of farmers from the United States and Canada, Gretchen began the farm tour in Nice, France and worked her way towards Barcelona, Spain.
"Each day was a different town, different farm," Gretchen recalls.
In Cros-de-Cagnes in France, Gretchen visited an oyster farm. "It's the most innovative place that we've gone to. The oysters grow in the Mediterranean waters. The shellfish, the oyster and clams and they can grow all year round. We even had a fabulous dish of oysters, clam, snail and shrimp," Gretchen beams.
Another town that left an impression on Gretchen was Menton in France, near the Mediterranean. "We met a lemon farmer who had a very rare specific lemon that is only grown in that area. It's right at the Italian border and they make Limoncello there," she says.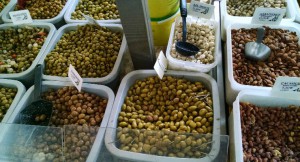 A farmer's market in France that's over 700 years old was another highlight from Gretchen's trip. She recounts, "We went to two markets. The second one was older. I think it's 730 years old. It's in a small town square that farmers come in every day with whatever they got growing."
The second part of the tour was held in Spain. "We stopped at a farm that's on a mountain side. It's about 70 miles out of Barcelona," Gretchen says. The farm's name is Can Sala in the Catalonian Region.
Here, Gretchen fell in love with the scenery…and of course, the food!
"They gave us a lovely lunch of roast beef and green onion and they're really good," Gretchen says. "When you're planting onion, you plant all the seeds and then you have to pull some out, so that others can get big. They roast those in a very hot fire, they get all charred on the outside and then they bring them again and put them on the table with tomato and garlic sauce."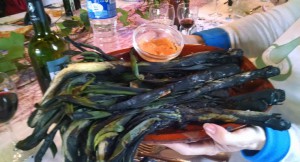 She explains, "You hold the onion up above your head, pull on the root and all of the charred part just comes off, and then you dip it in the sauce and you move it above your head and start eating."
All in all, it was an enriching and productive experience for Gretchen. She cannot wait to apply the lessons she learned from the trip to her work in the Pasadena Farmers Market.
"There are just so many places out there to explore where I can [get ideas], bring them home, incorporate them, and list what we have with the bounty we have here in Southern California. We have an incredible array of different textures, flavors, colors in our food that should be incorporated on our daily plate."
Come see what Southern California has to offer at one of our many local Farmers' Markets.
Pasadena Farmers' Market Villa Parke Center is located at 363 East Villa Street.
Pasadena Farmers' Market Victory Park is located at 2900 block of North Sierra Madre
Blvd. For more information, call (626) 449­0179 or visit http://www.pasadenafarmersmarket.org