Five Family Friendly Halloween Crafts
Tuesday, October 6, 2015
Fall is here and if you have little ghosts and goblins now is the perfect time to start doing some crafts with them. These crafts are good for all ages and are great for decorating.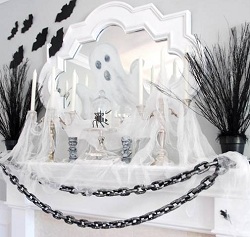 1. The Ghost in the Mirror - Seeing another face in the mirror is a classic scary movie trick. These ghosts add an element of spook to your home without being too scary. Difficulty Level: Beginner
Materials needed- You will need a sheet of frosted window film (check Amazon) and an x-acto knife.
Directions- Simply cut out a ghostly silhouette (think body under a sheet) and cut out eyes and a mouth. You then apply the film to the mirror being sure to keep it smooth.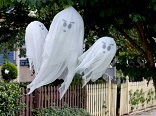 2. Ghost Tree- Swaying ghosts in the moonlight are sure to keep your yard festive all month long. Difficulty Level: Beginner
Materials Needed- a box of mini white trash bags, trash ties, black Sharpie, newspaper, and string
Directions- Fill each bag 1/3 of the way with newspaper. Tie it with a twist tie. Turn it upside down and now you are looking at the head. Let the kiddos draw ghost faces with the Sharpie. Then tie them to the trees with the string.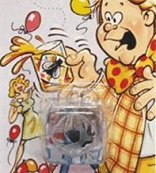 3. There's a Fly in My Soup- For a great Halloween idea or a fun gag you can make bug ice cubes. Difficulty Level: Beginner
Materials Needed- Bag of Fake Plastic Bugs, Ice cube Trays, Water
Directions- Wash the bugs in hot soapy water and dry. Fill your ice cube trays with water and place one bug in each cube. When they are frozen use them in drinks or to cool down hot soap.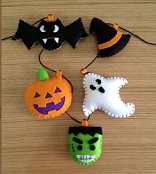 4. Swarm of Bats- Even when it is not Halloween bats tend to lend an aura of mystery to the evening. Create a swarm of bats for your front door to mesmerize your visitors. Difficulty Level: Intermediate
Materials Needed- Yard of black Felt or Paper, Good Scissors, Bat Pattern (can print an outline of a bat to use) Only use paper if you are in a dry area. Affix with tape or poster putty.
Directions- Cut out as many bats as you can with the black felt or paper. Affix them to your door making a swooping pattern. You want them to look as though they are rising up out of the earth and taking off.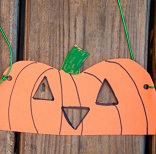 5. Pumpkin Faces- One of the best parts of Halloween is dressing up and scaring people. Your kids will love creating and wearing these pumpkin heads. They can get creative with this and make the mask any creature they want. Difficulty Level: Beginner
Materials Needed- Paper Plates, Elastic String or Yarn, Stapler, Scissors, Markers or Crayons, Any Other Decorations you want
Directions- Cut out eye holes and a mouth hole out of the plate. Let the kids decorate the mask with whatever face they create. Measure the string or yarn so the mask fits snugly against their head. Cut the string and staple to both sides of the face (where the ears would be).
Enjoy these crafts with your little pumpkins and ghostly guests.