How to Make the Most of Your Outdoor Space
Wednesday, February 8, 2017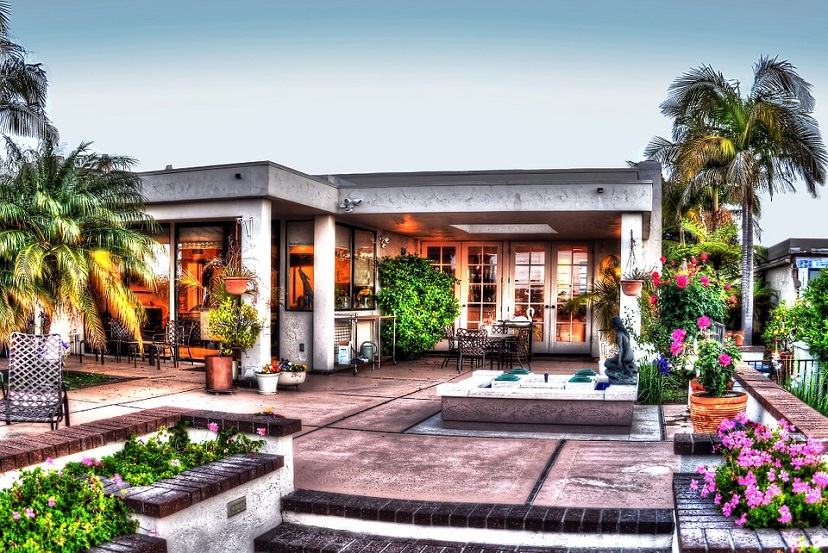 In Pasadena, we are lucky enough to have weather that allows us to make use of our outdoor spaces all year long. Decks, backyards and patios can all be transformed into outdoor living spaces. We spoke with Samantha Williams, Principal Designer at Ederra Design Studio, for some 2017 design tips. Williams was responsible for the Loggia at The Pasadena Showcase House for the Arts. This outdoors space was featured in the film, La La Land, and provides an unparalleled view of the mansion's gardens.
Williams describes the Loggia's theme as "cocktails after 5" and will create a useable, relaxed outdoor space with a bar cart for entertaining. She drew inspiration from the brick and complemented the landscape with teals and navy blues. The space includes outdoor couches – which are more sturdy than indoor couches – and an inviting stools.
"Neutrals are still going strong – navy blue can be used as a base color instead of grey or white," said Williams.
She adds that many people are building their palettes around these colors and then using furniture or throw pillows to add accents of bolder colors like grassy green or coral. These temporary pops of color can be easily changed with the seasons to keep your space feeling fresh.
"Always define how you want to use a space first," said Williams.
When designing the Loggia, Williams started with the theme of "cocktails after 5" and then planned the necessary items to create a welcoming space. She suggests that designers first look at a room's purpose and then make their decisions around that.
"Your color palette should be cohesive throughout the house," she said.
One of the challenges Showcase House designers face each year is how to create a cohesive house without having control over other rooms. Williams adds that the preselected Showcase House palette goes a long way to ensure that the house has a feeling of unity.
For more design tips visit Ederra Design Studio at 1142 North Allen Avenue, Suite 100. Call (626) 689-7866 or visit www.ederradesign.com for more information.
​