Pasadena Festival of Tea In Its Third Year at the Storrier Stearns Japanese Garden
Open Day Last Sunday, March 31, 10:00 a.m. to 4:00 p.m.
Tuesday, January 29, 2019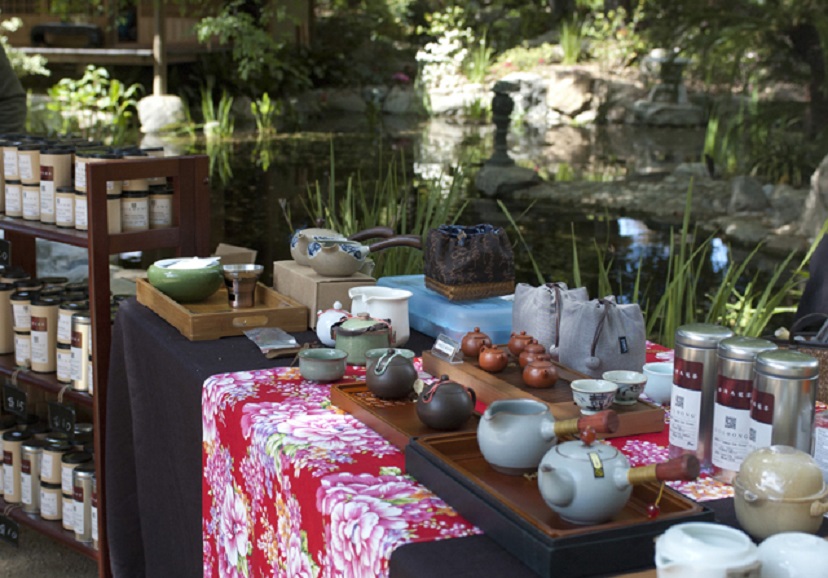 One of the garden's most popular events, the Pasadena Festival of Tea will be held again this year at the Storrier Stearns Japanese Garden during its regular Open Day Last Sunday on March 31 from 10:00 a.m. to 4:00 p.m.
With spring in full bloom in the garden, the festival will delight tea lovers and garden lovers alike. Local tea vendors will offer tastings and sales of a wide variety of teas and tea accessories. Tasting cups will be included with admission so visitors can sample Darjeeling and Assam teas, Korean herbal blends, Chinese Oolong and Puerh teas, Japanese Matcha, Sencha and other green teas, Taiwan Oolong teas, herbal blends and flavored teas.
Tea specialists will give talks throughout the day and Dr. Bradford King, President of the Southern California Camellia Society, will give a talk about these delicate Asian flowers and their relationship to tea.
In the garden's En Gallery there will be an exhibition of tea ceramics and prints by local artist, Julie Bagish, who was trained in Japan and inspired by Japanese art and tea culture.
Guests may participate in a Japanese tea ceremony demonstration (with a reservation), enjoying the traditional tea and sweets in the Niko-an teahouse. Tea practitioner, Mikko Nakatomi, will share her knowledge of the customs behind the ancient rituals which remain an important part of Japanese culture today.
An update will be sent with the names of confirmed tea purveyors and speakers.
• Rain date for the Festival of tea is May 26 and reservations will be honored
• Children 12 and under are free, no reservation needed
• Members receive free admission for two. No reservation necessary unless attending a tea ceremony
• Reservations close the day before at 5pm
• The garden is wheelchair accessible. Sorry, no pets allowed
• Open rain or shine on March 31. The garden is not able to issue refunds
Storrier Stearns Japanese Garden's Third Annual Pasadena Festival of Tea will be held on Open Day Last Sunday, March 31, 2019, 10:00 a.m. to 4:00 p.m. Tickets are $12.00 Online / $15 at the Gate. Includes a tea tasting cup, Tea Ceremony Demonstrations, Niko-an Teahouse (reservation required) at 1:00 and 2:00 p.m. $15.
Storrier Stearns Japanese Garden, 270 Arlington Dr., Pasadena, (626) 399-1721 or visit www.japanesegardenpasadena.com.