Putka Pods Pumpkin Wreath Craft
Monday, October 19, 2015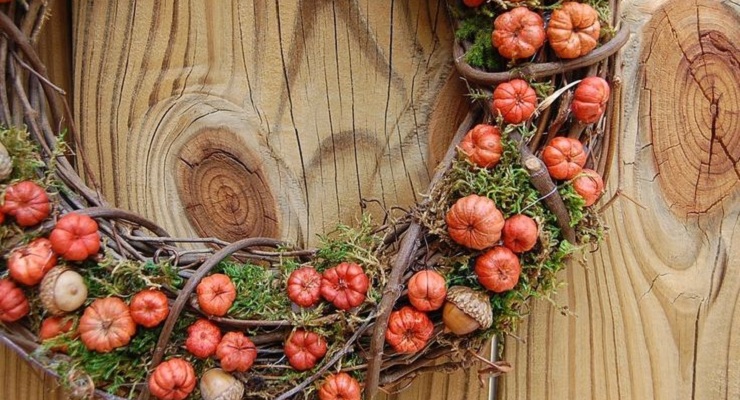 Have you ever heard of a putka pod? You wouldn't know it to look at one but they are dried seed pods. This time of year though they are perfect for crafting because they look like teeny pumpkins! Anything tiny is cute and these pumpkin shaped pods are no different! You can make a great Fall/Halloween Wreath using these pods.
Materials Needed
– 12" foam wreath form (you could do bigger or smaller and would need more or less pods depending on what you decided)
– 8 cups dried putka pods (you can find these on www.etsy.com or www.amazon.com)
– Hot glue gun (don't forget refill sticks)
– Scissors
– Ribbon (orange, black, burlap, green, purple and red are all great choices)
Directions
1. When glue gun is heated apply a dot to the foam and immediately press down a putka pod. Hold there for several seconds.
2. Repeat Step 1 over and over until the front and back are covered. If it is lying flush up against a wall you can omit covering the back if you like.
3. Anywhere you still see foam through the pods, apply a dot of glue and add another putka pod. You may want to look it the wreath from different angles to make sure it is all filled up. This step will add some depth to the look of the wreath as well.
4. Take your ribbon and wrap it around the top so you can hang the wreath. If you see any leftover glue carefully remove it.
One of the best things about this craft is it is versatile. You can make candle rings, place card holders, or use it to jazz up a fall centerpiece.
Find supplies for these pumpkin crafts at Stats located at 120 S. Raymond Ave., Pasadena or Michael's located at 1155 E Colorado Blvd., Pasadena.
Happy Crafting!